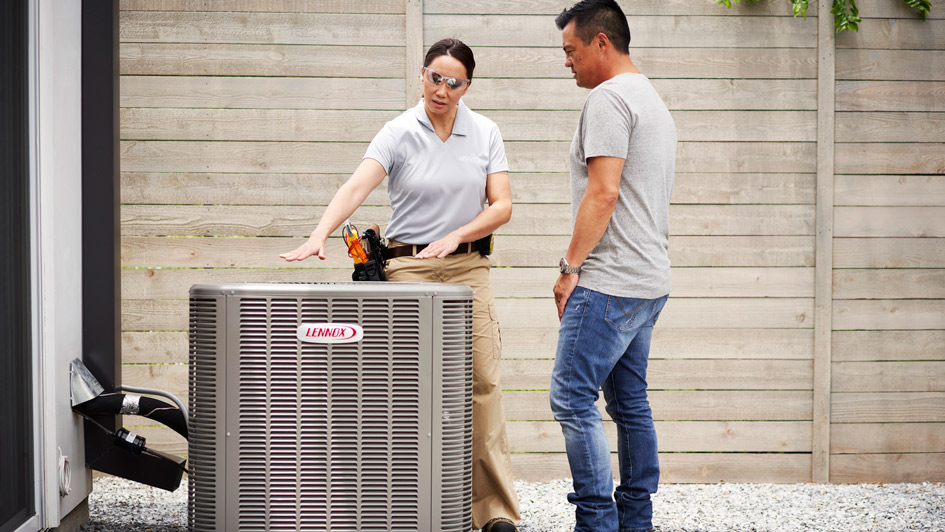 Lennox has been a trusted provider of reputable, energy-efficient HVAC appliances for more than a century. With a heritage of innovation and a commitment to quality, Lennox continues to be your trusted go-to brand for heating, cooling and air quality solutions.
Recognized for its demanding testing standards, Lennox delivers innovative products to homeowners. This equipment is the highest quality, supplying top-notch heating and cooling in Circleville for years to come.
Lennox offers three equipment lines capable of meeting your HVAC needs:
The Signature® Collection Series—Some of the highest-efficiency models available on the market today.
The Elite® Series—Premium quality and exceptional performance coupled with Lennox's outstanding customer service.
The Merit® Series—Entry-level models in the Lennox lineup, the Merit Series remains an excellent solution for those who demand superior operation and durability from their HVAC equipment.
From energy-efficient models to enhanced temperature control, Lennox has it all—making it the trusted HVAC brand on the market today.
Is Lennox Better Than Carrier?
Lennox and Carrier are both good brands known for effective products, but Lennox really sparkles in its energy efficiency and earth-friendly performance.
Lennox air conditioners supply first-rate cooling efficiency and humidity control, and its furnaces are rated at up to 99% Annual Fuel Utilization Efficiency (AFUE). Its AC and heating units work quietly and are loaded with smart technology such as the iComfort® smart thermostats, which can be operated by an app or web portal and are compatible with services such as Amazon Alexa and Google Assistant.
To learn more about the smart technology Lennox offers, ask a local heating and cooling expert in Circleville about air conditioning installation today.
Is Lennox Better Than Trane?
With regards to picking out an HVAC system, there is no one-size-fits-all solution. When comparing Lennox to Trane, Lennox is often considered the superior option thanks to its high performance ratings and advanced design properties.
Lennox models have some of the highest energy efficiency ratings in the industry. Whether you're looking for a cooling system to keep your home comfortably cool during steamy summer months or a heating system to keep it cozy in winter, Lennox systems provide reliable performance while keeping energy expenses low.
Which Is Better: Rheem or Lennox?
Lennox and Rheem are both established brand names known for reliable HVAC models, but the product lineup at Lennox includes more highly energy-efficient air conditioners and furnaces. That's because of Lennox's focus on ensuring its HVAC products are the most energy efficient available today. Its most effective air conditioner, the Lennox SL28XCV air conditioner, has an amazingly high SEER rating of 28!
Get in touch with your local HVAC company in Circleville today to ask about how you can get an energy-efficient Lennox air conditioner installed in your home.
Is American Standard Better Than Lennox?
When it comes to heating and cooling your home, Lennox is the top-quality choice compared to American Standard. With Lennox's modern technology and innovative design, you get more than just comfort—you get an efficient system that helps save money on energy expenses while delivering a consistent level of indoor air quality.
Plus, Lennox offers a variety of models equipped with features that make them well suited for any residential property or business. From incredibly quiet operation to accurate climate control, Lennox has you covered. With its dedication to energy efficiency, you can rest assured that your Lennox air conditioner, furnace or other HVAC equipment will keep your indoor air clean and comfortable without draining your bank account.
Is Daikin Better Than Lennox?
While Daikin and Lennox heating and cooling systems are both known for top quality, Lennox models are also known for offering unrivaled efficiency and reliability.
Lennox offers models that incorporate innovative technologies such as variable-speed compressors, air filtration systems and Wi-Fi enabled thermostats. These features help make sure your home or office space is kept cozy year-round while minimizing energy expenses.
Is Goodman Better Than Lennox?
Lennox HVAC solutions produce superior efficiency and quieter operation overall than Goodman models. With Lennox's superior technology and dependable performance, its air conditioners and furnaces are the go-to choice for supplying your family comfortable temperatures all year-round. Lennox also uses high-efficiency air filters that trap more microscopic particles, offering you healthier indoor air quality.
Is Lennox Better Than Bryant?
Lennox and Bryant are both respected companies, but with its reputable and efficient air conditioner models, Lennox has earned a well-deserved reputation for high quality and excellent customer service.
When it comes to energy efficiency and overall performance, Lennox has earned a reputation as the premium brand available on the market. Lennox also was the first company to sell a full collection of ultra-low Nitrogen Oxide (NOx) furnaces. The Ultra-Low NOx furnaces produce 65% less NOx emissions than a low-NOx furnace and are incredibly cost effective with an anticipated 25% cost savings each year. Defend your home with an ultra-low NOx furnace installation today!
Is Lennox Better Than York?
Lennox and York offer numerous comparable products, but the Lennox array of air conditioners typically are quieter as a line than their York counterparts—with two Lennox models earning sound ratings as low as 59! A number of Lennox air conditioners have proven they operate so quietly they have sound ratings of 69 or less.
Lennox also has a more extensive selection of ENERGY STAR®-qualified products than York. Year after year, leading industry organizations and institutions shine the spotlight on Lennox for redefining excellence in the heating and cooling industry. Its air conditioners, furnaces, heat pumps and accessories have been honored by quite a few industry organizations for its climate-friendly features, design and performance.
Which Is Better: Ruud or Lennox?
When it comes to which is better, Ruud or Lennox, it's apparent that Lennox makes the more efficient and earth-friendly models.
Several designs in the lineup of Lennox models are ENERGY STAR qualified and several of its air conditioners have SEER ratings of 20 or more, which provide an exceptional amount of efficiency for your home, business and pocketbook!
Phone your area Lennox dealer to ask about solutions for heating and cooling in Circleville, and to find out which of Lennox's superior air conditioners, furnaces and accessories will be the best choice for your residential property or business.